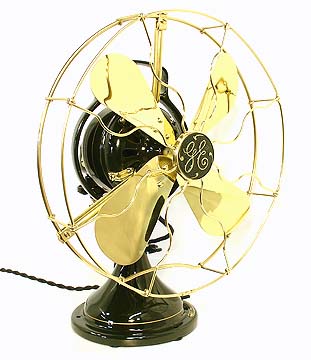 Now is your chance to own an original 1919, 2-Star GENERAL ELECTRIC, brass blade, brass cage, oscillating, 3 speed electric fan. This GE electric fan has been completely restored and is ready for another 90 plus years of service.
If special is what you are looking for in an antique electric fan restoration, then this is it. Rest assured, this is a professional restoration.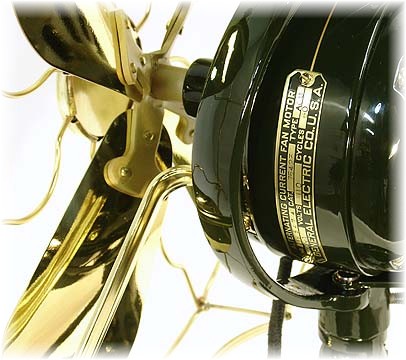 They truly don't build them like this anymore. This "MADE IN THE U.S.A." GE electric fan is a working piece of American history right out of the industrial revolution.
This fan has been refinished in a very dark, machine green that was computer matched to its original paint.
I use a lot of close-up images to show the exceptional care taken in attention to detail. You'll not find a nicer restoration.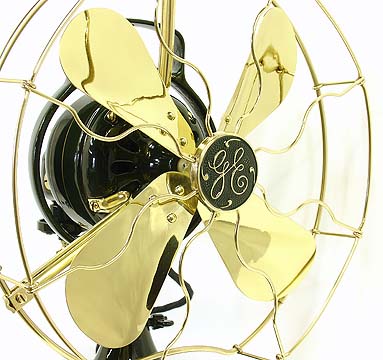 The four solid brass blades have been machine buffed, polished, and clear coated for preservation. They have also been strobe-light balanced to provide very smooth operation. The mounted blades are 12" in diameter and really move the air.
Beautiful solid brass cage and GE badge have also been machine buffed, polished, and clear coated for preservation. Cage badge background has been filled in with matching green paint.
SPECIAL NOTE: To properly treat and prevent reoccurrence of corrosion between the brass blades and brass hub, they are disassembled and processed separately. After refinishing, they are reassembled using special solid brass rivets and special tooling. They are now just like they came from the factory.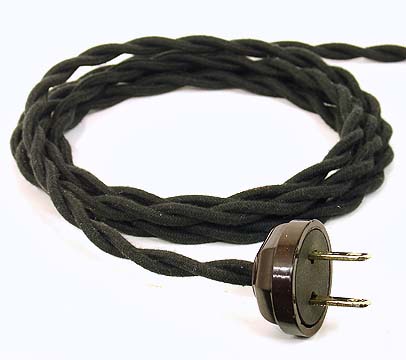 The motor cord and the line cord are black, cloth covered, twisted wire made especially for antique restorations. It is the best available. The plug is a vintage plug of that era and was commonly found on these fans. It too has been restored and is just like new.
All electrical is thoroughly inspected and tested. Speed control choke and motor field winding are cleaned and resealed before reinstallation to prevent oxidation and promote long life.
Speed control is completely disassembled to permit access to all contact surfaces. Knife switch contact pitting is removed and surface smoothed. Proper switch/contact tension reset.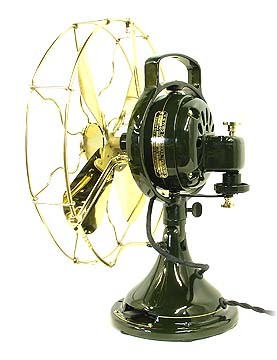 The base and motor housing are constructed of rugged cast iron. A sliding switch at the base provides a choice of "off and three different speeds".
Refinishing involved complete disassembly, stripping to bare metal, bead blasting, surface treatment, and then coating. The gun applied finish is the same weather proof finish used on automobiles. It consists of an epoxy sealer/primer, 2 coats of color base, pin striping, and finally 2 coats of catalyst activated clear coat. And it is stunning.
You see my fans from every angle and they look brilliant in the images because they are brilliant.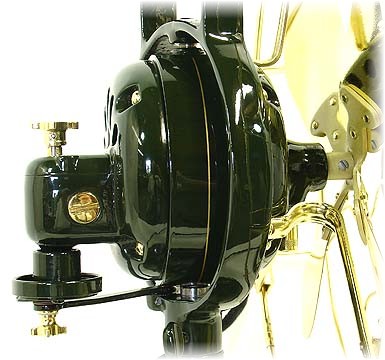 Here we have a view of the motor, oscillator gear housing, oscillator control and motor positioning controls.
This powerful 4 pole electric motor is robust and easily turns these large blades.
Oscillator gear housing has been packed with special gear lube and is ready for another lifetime of operation. Brass oil cup has new wick to provide proper lubrication to the front bearing.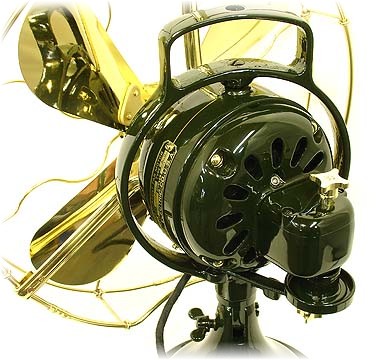 Carrying handle is quite handy for moving this very stout electric fan. This is a special and unique feature of this GE fan. This is called the "loop handle". The motor mounting and the carrying handle are all incorporated in a single, very rugged cast iron frame.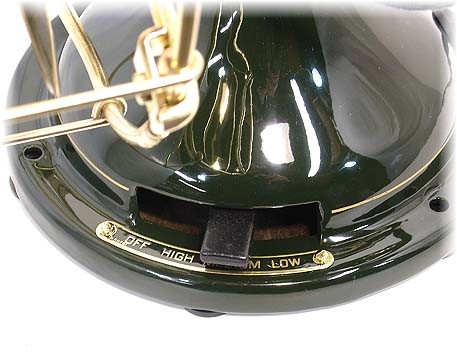 The solid brass speed control position indicator background has been finished in matching paint, embossed brass polished, and then clear coated for preservation.
This General Electric electric fan has been very carefully, meticulously, and painstakingly restored. The new owner will be proud to show it and will thoroughly enjoy using it.
All of the many processes used in this restoration are too numerous to mention in this short description. I do all of the work myself. If you have any questions about what has been done to this fan, please email.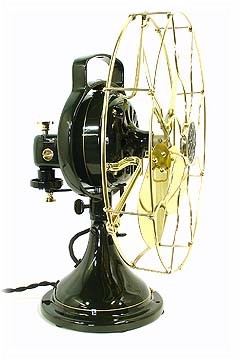 For safe shipping, this fan will be shipped in two separate cartons. Some assembly will be required. Instructions are included. Tech support via email or telephone will be available and is encouraged if there are any questions or doubts. Special motor lube is also included.
I have been collecting and restoring electric fans for many years, and I stand behind my work 100%. Also, I am an active member of the "Antique Fan Collectors Association".
Fixed shipping cost of $35.00 is approximately half of the actual freight charges for insured USPS Priority in the continental U.S. I pay the balance to ensure expeditious delivery. International bidders and those outside the continental U.S., please email for shipping costs. Packaging is done with new materials and cartons.
Please check my other auctions, as I also restore vintage telephones.