Now is your chance to own an original 1924, General Electric, authentic "GE WHIZ", brass blade, oscillating, electric fan. This GE electric fan has been completely restored and is ready for another 80 plus years of service.
If SPECIAL and CONFIDENCE are what you are looking for in an antique electric fan restoration, then this is it.
This fan features the smaller 4" blades, with a tip to tip span of 9". Cage is 10" in diameter and overall height is 13"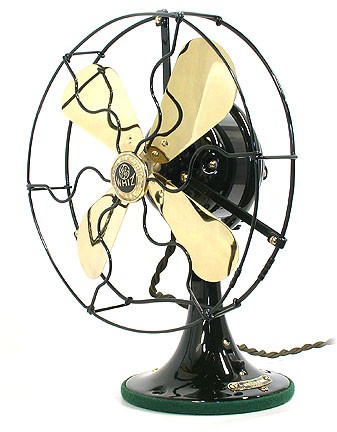 They truly don't build them like this anymore. This "MADE IN THE U.S.A." GE electric fan is a working piece of American history right out of the industrial revolution.
The "GE WHIZ" electric fan was manufactured circa 1924, for residential use. This one has stood the test of time and is in remarkable working condition. It is a smooth, single speed motor with a very comfortable RPM and very nice air flow.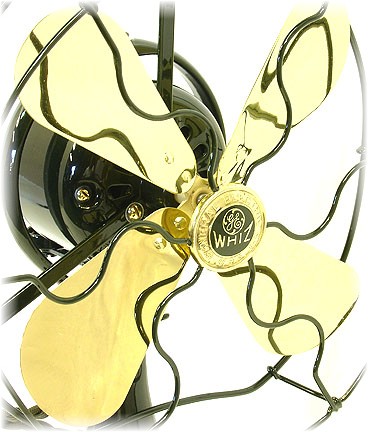 The four solid brass blades have been machine buffed, polished, and clear coated for preservation. They have also been stroboscope aligned and dynamically balanced to provide very smooth operation.
Beautiful solid brass "GE WHIZ" cage badge has also been machine buffed, polished, and clear coated for preservation. Cage badge background has been filled in with matching green paint.
SPECIAL NOTE: To properly treat and prevent reoccurrence of corrosion between the brass blades and brass hub, they are disassembled and processed separately. After refinishing, they are reassembled using special solid brass rivets and special tooling. They are now just like they came from the factory.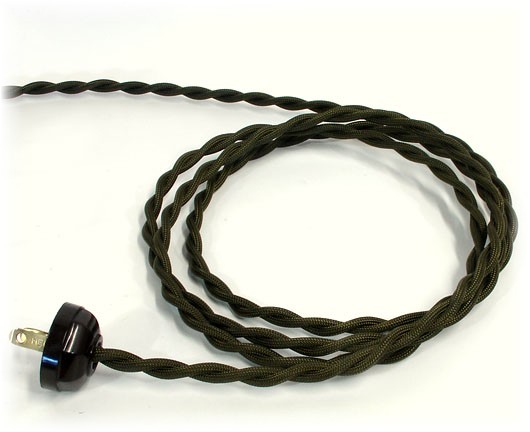 The motor cord and the line cord are green, cloth covered, twisted wire made especially for antique restorations. It is the best available. The plug is a vintage plug of that era and was commonly found on these fans. It too has been restored and is just like new.
All electrical work performed on this fan is done so with an extensive electrical background and a full understanding of the correct procedures necessary for a safe and properly operating electrical device.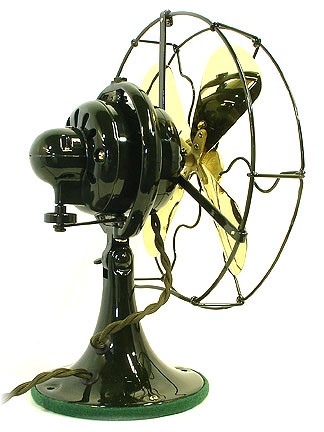 This fan has been refinished in a very dark, machine green that was computer matched to its original paint.
Refinishing involved complete disassembly, stripping to bare metal, bead blasting, surface treatment, and then coating. The gun applied finish is the same weather proof finish used on automobiles. It consists of an epoxy sealer/primer, 2 coats of color base, and finally 2 coats of catalyst activated clear coat. And it is stunning.
You see my fans from every angle and they look brilliant in the images because they are brilliant.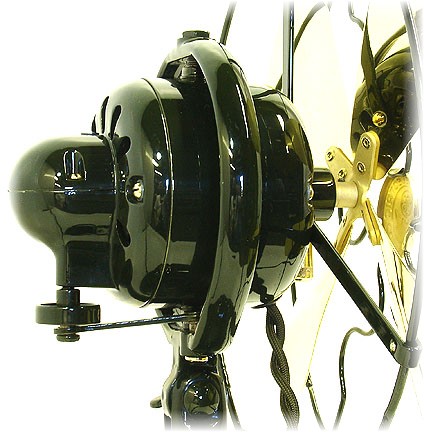 Here we have a view of the motor, oscillator gear housing, oscillator control and motor positioning controls.
Oscillator gear housing has been packed with special gear lube and is ready for another lifetime of operation. Brass oil cup has new wick to provide proper lubrication to the front bearing.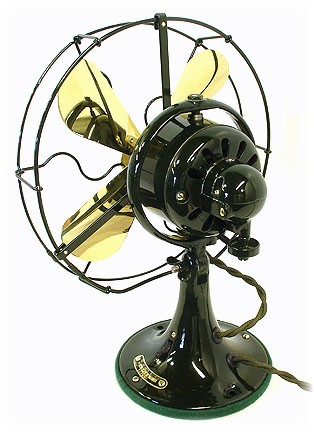 This GE WHIZ features the unique looped motor mount for oscillating. It is a rugged and very attractive feature. Base plate is covered with a special wool blend felt, chosen for its color and texture match.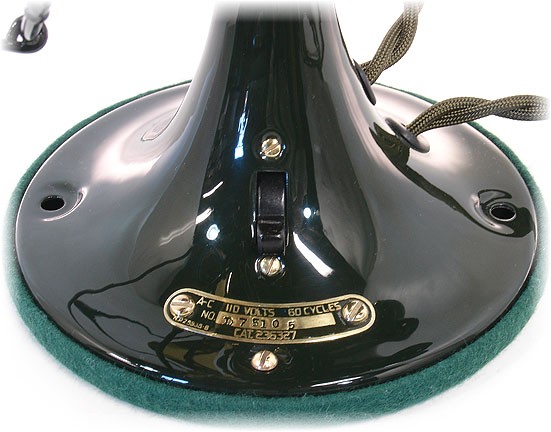 The solid brass data plate background has been refinished in matching paint, embossed brass polished, and then clear coated for preservation.
This General Electric electric fan has been very carefully, meticulously, and painstakingly restored. The new owner will be proud to show it and will thoroughly enjoy using it.
All of the many processes used in this restoration are too numerous to mention in this short description. I do all of the work myself. If you have any questions about what has been done to this fan, please email.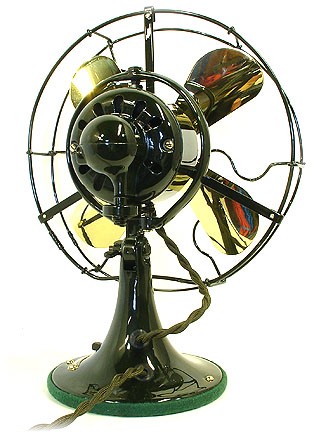 I have been collecting and restoring electric fans for many years, and I stand behind my work 100%. Also, I am an active member of the "Antique Fan Collectors Association".

This fan will be shipped in single, double-boxed carton

Some assembly will be required. Instructions are included. Tech support via email or telephone will be available and is encouraged if there are any questions or doubts. Special motor lube is also included.

Fixed shipping cost of $25.00 is for FEDEX Ground in the continental U.S. If FEDEX Ground is not available in your area, or an other carrier is desired, please request shipping costs before bidding. International bidders and those outside the continental U.S., please email for shipping costs. Packaging is done with new materials and cartons.