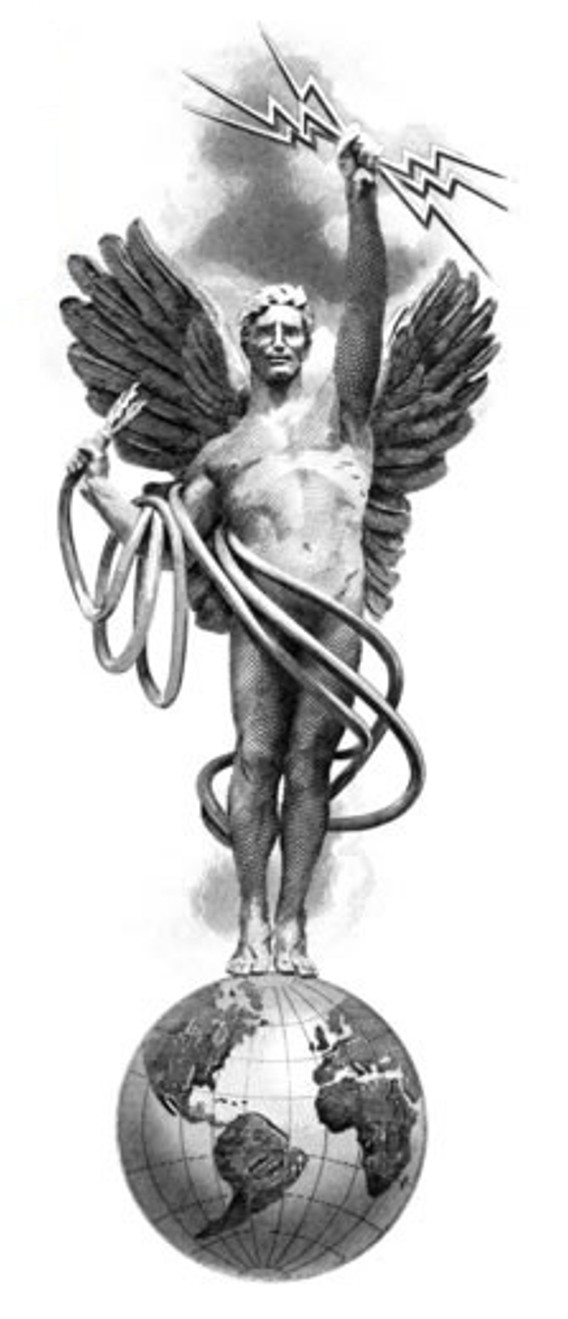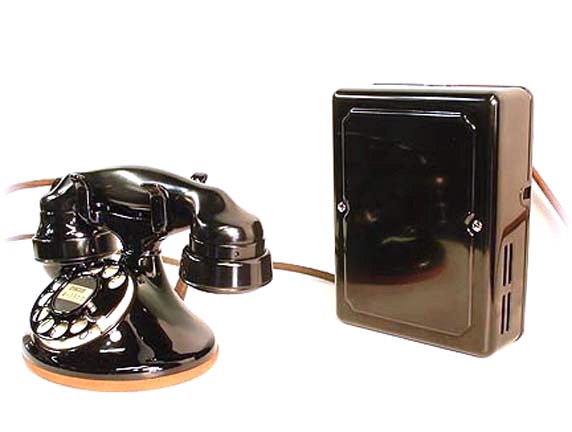 Here is your chance to own an original, 1935, Western Electric model 202 desk-set telephone with the very desirable 4H clickity-clack dial, 684A subset, and the E1 bakelite handset, in full operating condition. Works just like it did almost 80 years ago. All you have to do is plug it into your modular wall telephone outlet and start dialing and talking.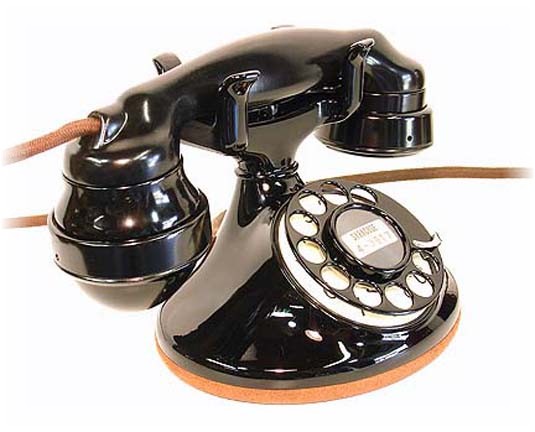 Works right out of the box - guaranteed. This telephone has been completely disassembled and professionally restored with "attention to detail" for every single part. Nothing has been overlooked. It is just like it came from the factory in the 1930's.
The finish is a spray-gun applied two part paint system. It is the most expensive and difficult to apply and is far more superior to any other coating available. It is chosen for its durability, depth of color, and its overall beauty.
Only the best available brown, cloth-covered cord is used for the line cord and handset cord. This beautiful cord is especially manufactured for telephone restorations and matches the original.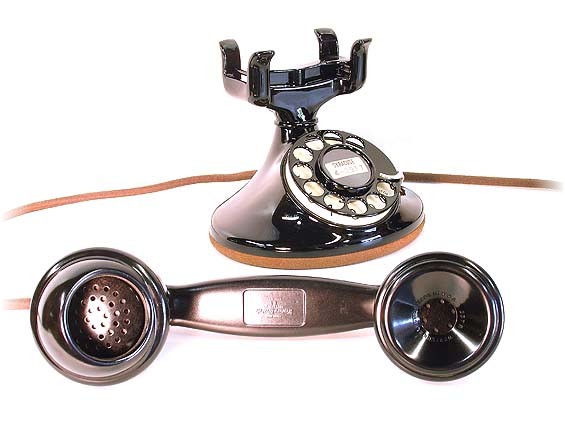 This very desirable solid bakelite, E1 handset has been machine buffed to a soft, brilliant luster. If the winning bidder desires the later model F1 handset instead of this E1, it can be substituted at no extra charge.
These images are taken under very bright lights with a high resolution digital camera to ensure that you can see what you are bidding on. Would you rather be told that the finish is beautiful, or see it for yourself.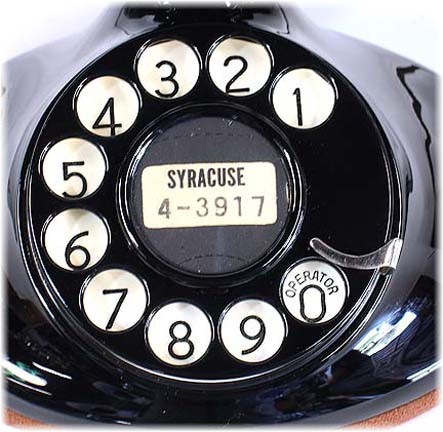 Beautiful, rare, numbers-only celluloid dial face is in remarkably beautiful condition and shows only minor wear. It is so rare to find a celluloid dial face in this condition. Numbers are bold against the white background. The nickel plated finger stop has been buffed to a mirror finish.
Dial center card is original to this telephone. It is an original Western Electric card and is in mint condition. If the winning bidder should desire another center card, it can be easily changed before shipping. Just let me know.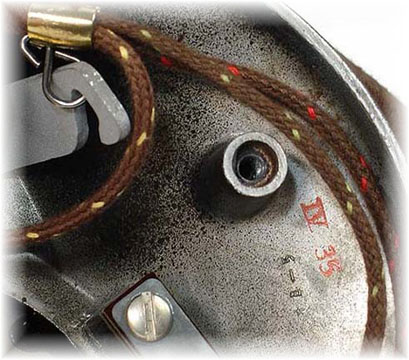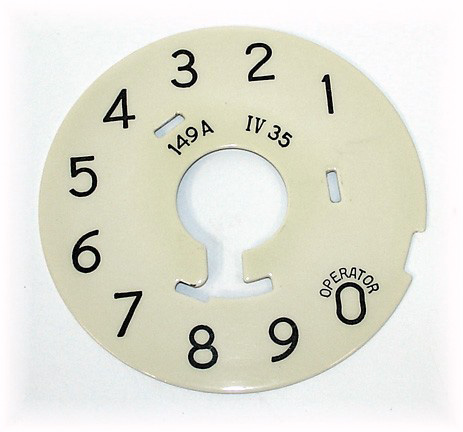 Telephone body and dial face are date stamped IV 35 (4th quarter 1935). 4H dial is also date stamped IV 35. Rarely is this matching combination found.
The bottom plate has been bead-blasted and recovered with genuine suede leather that closely matches the original leather cover. It is soft, supple, and smooth.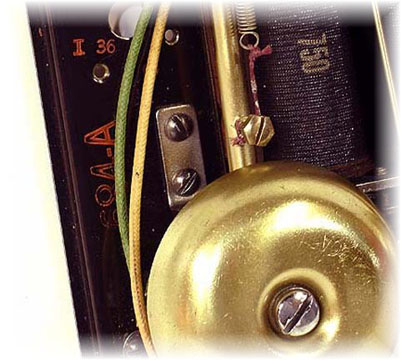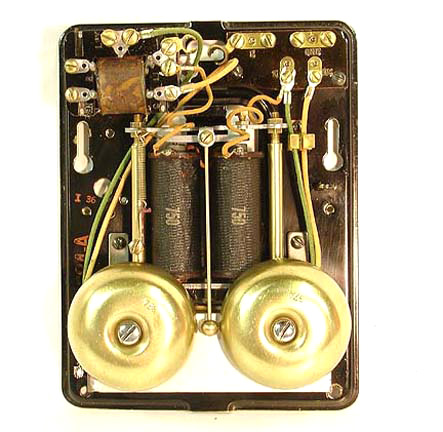 This model 684A is one of Western Electric's first anti sidetone subsets. Date stamped I - 36 (1st qtr 1936). Features twin brass bell ringer and bakelite cover with louver vents. Bakelite cover is in beautiful condition and has been machine buffed to a soft luster.
These brass bells actually harmonize with slightly different tones, and they have a delightful sound from the past.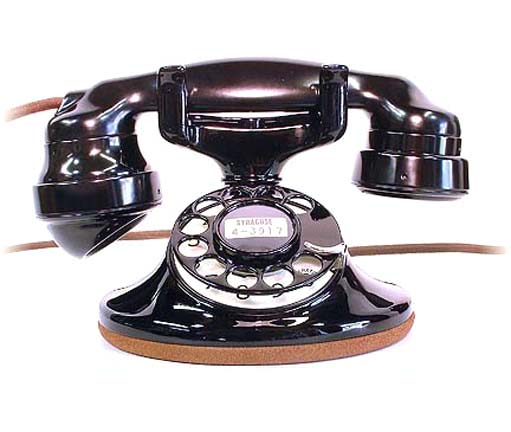 I have been restoring vintage telephones for many years and stand behind my telephone restorations 100%. If you need to return this telephone, you need only CONTACT ME within 24 hours of the delivery confirmation. Then return the telephone to me within 7 days of receipt in the same packaging and in the same condition as shipped, and you will receive a prompt refund of your full purchase price. So please bid with confidence. Your questions and comments are welcomed.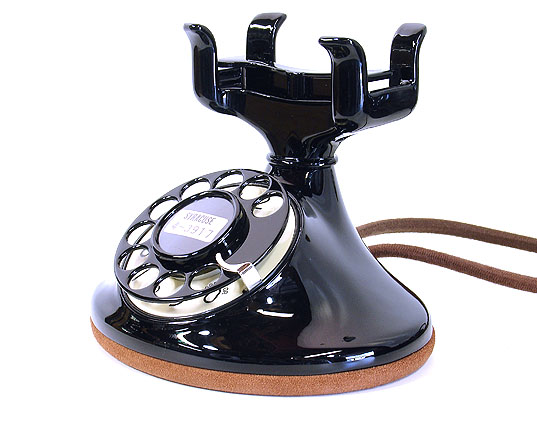 This telephone and subset came to me as a set. All of the components you see here were originally together.
Although it is very rare for anything to go wrong with my telephones, I still give a 1 year parts and labor warrantee on all electrical parts, not including damage. In addition, I am available for tech support by email or telephone.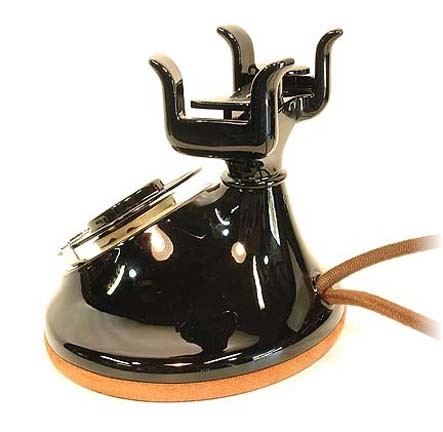 Shipping with insurance via USPS Priority anywhere in the continental U.S. is $17.00. This includes quality packaging to assure safe arrival.
Please inquire about shipping costs for shipments outside the continental U.S. International bidders, be aware that clearing through your customs can take weeks.
I also restore vintage electric fans, so please check my other auctions.